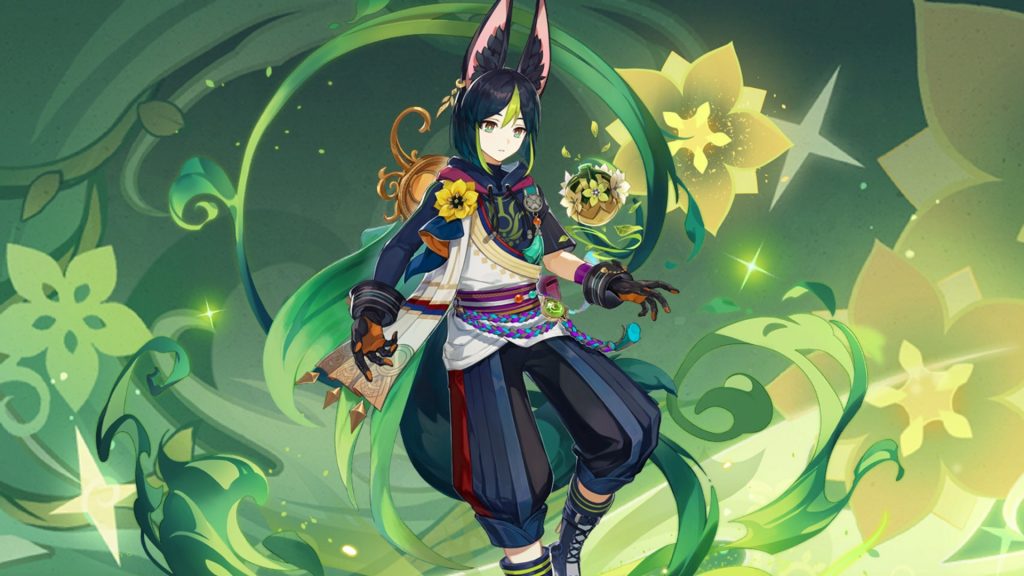 Tighnari is Dendro's first role in the upcoming Genshin Impact role. As captain of Dawson Rainforest, he will be the first five-star dendro character in the game to have bunny ears, and as a bow user, Tighnari has unique elemental skills. This article aims to detail the release date, banners, and skills of the first Dendro character. Players can also purchase enough Genshin Impact Genesis Crystals in advance to better use the Tighnari character.
Who is Tighnari of Genshin Impact?
Tighnari is the Chief Ranger of Dawson Rainforest. He has a wealth of expertise and a deep understanding of the flora and fauna of the surrounding environment. He is mainly responsible for maintaining the ecological environment of the land and protecting the safety of all who enter the area. As a five-star dendro archer, as long as he has the matching equipment, he will definitely grow into an excellent DPS.
Banner release date for Genshin Impact Tighnari
Tighnari is a 5-star character introduced in the 3.0 update, so he gets his own Genshin Impact banner and has a 4-star support roster. Regarding the 3.0 banners, the first phase will feature Tighnari, Zhongli and Collei, and the second phase will feature Ganyu, Kokomi and Dori. As for the release date, the Tighnari banner's release date is expected to be August 24, the same as Genshin Impact 3.0.
Skills of Genshin Impact Tighnari
Common Skill: Khanda Barrier-Buster
1. Regular attack: up to four consecutive bow shots.
2. Charge Attack: Aimed shot that deals more damage. Dendro's power builds up in the arrow before he fires it, and the effect varies depending on how long the power is charged:
Charge Level 1: Deals additional Dendro damage.
Charge Level 2: Fires "garland" arrows, dealing damage to Dendro. When it hits, the arrow produces four clusters of flower arrows that track nearby opponents and inflict Dendro damage to them.
3. Dive attack: Shoot a shower of arrows in the air, then fall and hit the ground, causing area damage.
Elemental Skill: Vijnana-Phala Mine
Tighnari fires a Vijnana Stormheart striker that deals Dendro damage in an area of ​​effect and creates a Khanda field that creates illusions that taunt enemy mobs and get their attention. This ability also reduces the charge time of Crown Arrows by 1.5 seconds.
Elemental Burst: Designer's Creeper Shaft
Tighnari will fire six Tanglevine Shafts that can track down opponents and deal Dendro damage. When hit, each tangled vine reel generates a second wave of reels, which also track and attack opponents, dealing more Dendro damage.
Constellation of Genshin Impact Tighnari
Beginnings Determined at the Roots: Tignali's Charged Attacks have 15% increased critical strike chance.
Origins Known From the Steam: Tighnari gains a 20% Dendro bonus when an opponent in the field is created by Tighnari's Elemental Ability.
Fortunes Read Amongst the Branches: Increases Tignari's Elemental Burst level by three levels, up to level 15.
Withering Glimpsed in the Leaves: When Tignari triggers his Elemental Burst, all party members gain 60 Elemental Mastery for 8 seconds.
Comprehension Amidst the Flowers: Tignali's elemental skill levels have been increased by three levels, up to a maximum of level 15.
Karma Adjudged From the Leaden Fruit: Garland Arrows have their charge time reduced by 0.9 seconds and spawn an additional Cluster of Flower Arrows on hit.
That's all we know about Tighnari's release date, skills, and horoscope, if you want more official news, subscribe to our blog, OKgameblog.com, where we'll be updating more Genshin Impact updates Information and game guides.