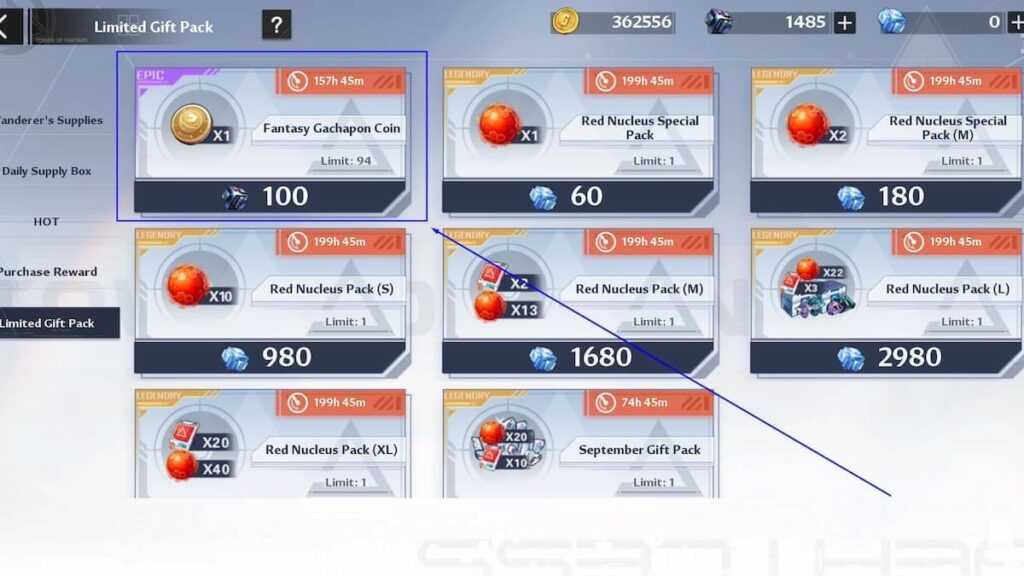 In Tower of Fantasy, go from quests to exploring the world to hunting monsters with friends. In addition to combat, the game occasionally offers players a plethora of activities. In this event, players can get certain rewards by spinning the wheel, and by having Fantasy Gachapon Coins, they can get rich prizes. Players have many options for clothing, avatars, and required resources, which can often be found during exploration. So this guide will introduce how to get Fantasy Gachapon Coins in Tower of Fantasy. Players also need to buy a certain amount of Tower of Fantasy Tanium to get gashapon coins.
How to get Fantasy Gachapon Coins
On the first day of the event, players can get 5 free Seabreeze Gachapon coins through rewards. For more clarity, players can earn rewards by clicking the current icon in the upper right corner of the screen, and daily rewards can be found in the Supply Run section. It is worth noting that the daily rewards will be updated at 5 o'clock every day, and fans will have the opportunity to get 400 dark crystals and 10 red cores in Tower of Fantasy.
Alternatively, players can choose to purchase Fantasy Gachapon Coins for 100 Dark Crystals per coin. Tower of Fantasy players interested in this option should click the shop icon in the upper right corner of the screen, then click the Limited Gift Pack tab on the left. It's worth noting that players can only buy 94 Seabreeze Gachapon Coins through the store, but that's enough to get all the rewards in the event.
How to use Fantasy Gachapon Coins
Once the player has some Seabreeze Gachapon Coins, they should go back to Rewards and click on Summer Seabreeze at the bottom of the screen. This action will bring gacha game fans a menu where they can choose to use one or ten coins at a time for the draw. In addition, this menu shows the rewards that can be earned with Seabreeze Gachapon Coins, as well as the number of times each individual reward can be earned.
Among these rewards, Seaside Vacation gear, Animal Hairpin accessories, Kitty Coast avatars, Salty Wave avatar frames, and Summer Stream chat bubbles are all rare. MMORPG fans only have a 0.12% chance of getting any of these rewards in the first draw. While these chances will improve with more draws, players interested in these rare rewards should expect to spend quite a few Seabreeze Gachapon Coins.
If you're interested in a guide to getting Fantasy Gachapon Coins in Tower of Fantasy, I hope this article helps you. Alternatively, players can also buy Tower of Fantasy Top Up at Z2U.com to help you get Fantasy Gachapon Coins.