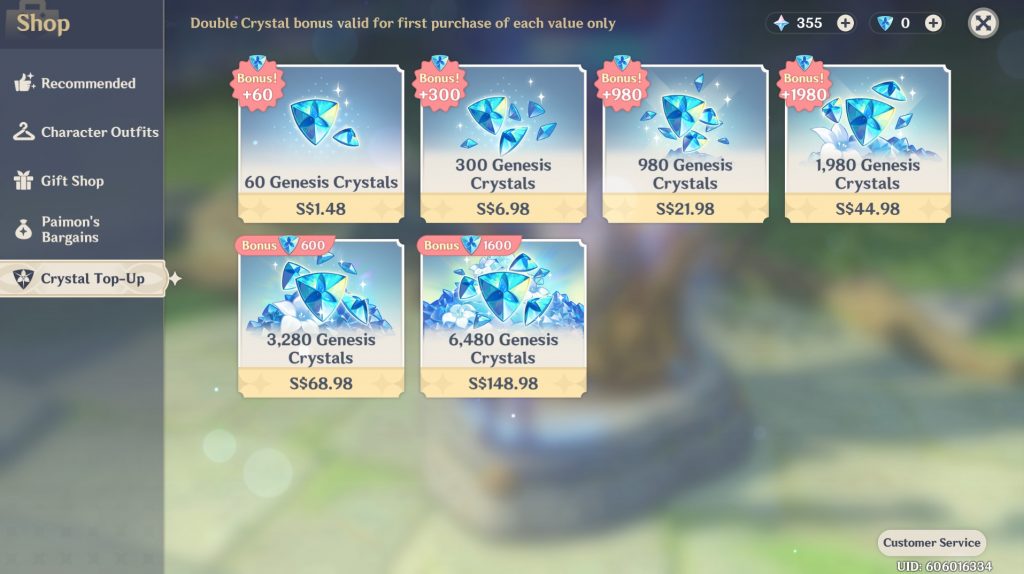 Genesis Crystals are the purchasable currency in Genshin Impact. While microtransactions are non-intrusive and completely optional, you may sometimes consider researching these transactions if you want a higher chance of getting your favorite characters. Here's how to get the Genesis Crystal in Genshin Impact and what to use it for. If you want to buy Genshin Impact Top Up to upgrade your game equipment and characters, welcome to z2u.com to buy it.
What is Genesis Crystal?
Genesis Crystals are the premium in-game currency in Genshin Impact. These can be exchanged for Primogems, these Primogens are used in exchange for wishes used in the Gacha. They can also be used to purchase bundles of other in-game items, as well as to purchase special character outfits.
How to get the Genesis Crystal for free in Genshin Impact?
1. QUIZE: Get the Genesis Crystal about Genshin Impact by answering questions
This app is a quiz where you can earn cash amounts to use your Genesis Crystals on Genshin Impact. If you like polls that answer a lot of questions, this game is for you. When taking the quiz, you will see a welcome video, click "Start Now" after watching it. After that, you must register, accept the usage policy and confirm your contact details with the code received in your number. Once you've signed up, just wait for the quiz, play the game, build up your balance and spend it on Genshin Impact.
2. CASHIZINE: Get the Genesis Crystal about Genshin Impact by reading the news
This app allows you to collect points by reading news and then exchange them for money to use in Genshin Impact, actually you don't even need to read the news that appears in the app, just open it and wait for the time to pass to get you 's points. Cashzine looks like a social network that allows interaction, comments and likes. You can also earn money by inviting others and friends or by completing certain tasks. This Cashzine software is available for download on IOS and Android and must be downloaded from the operating system store.
3. BIG TIME AND HAGO: Get the Genesis Crystal of Genshin Impact by playing the game
There are games in this app where you have to accumulate points and then exchange them for money to spend on Genshin Impact. Points can be redeemed for USD or used in weekly sweepstakes, but we recommend using them with USD rather than spending on something uncertain.
HAGO: Plant a tree
In this application you need to take care of a tree and receive money to take care of it. Just fertilize, water and take care of it constantly. You can get water by completing quests or playing games in the app. This is a tamagoshi and mascot style game, these Big time or hago apps are available on Android and IOS and must be installed from Play Store and App Store.
4. Buy the Genesis Crystal from the in-game store
You can access the in-game store by opening the Summon Paemon menu and clicking the store icon. After opening the in-game store, tap Crystal Recharge and select the package you want to purchase. Double bonus on every first purchase. If you're tired of growing Genshin Impact Genesis Crystals, you can search for "discount Genshin Impact Genesis Crystals", "Genshin Impact Genesis Crystals to buy", "Genshin Impact Genesis Crystals PC, PS4, PS5, Nintendo Switch, Android, iOS, Mobile" , you will find the most reliable marketplace Z2U.com.
How to use the Genesis Crystal?
After purchasing the crystal, select the wish option from the menu and click on the promogems in the upper right corner. From here, you can convert your crystals into primogems, which can then be used to start rolling wishes. Genesis Crystals serve no purpose other than turning them into raw gems to grant wishes, so only buy them if you're trying to roll for a weapon or character.
That's all you need to know about how to acquire and use the Genesis Crystal in Genshin Impact. You can buy the cheapest Genshin Impact Genesis Crystals at z2u.com.