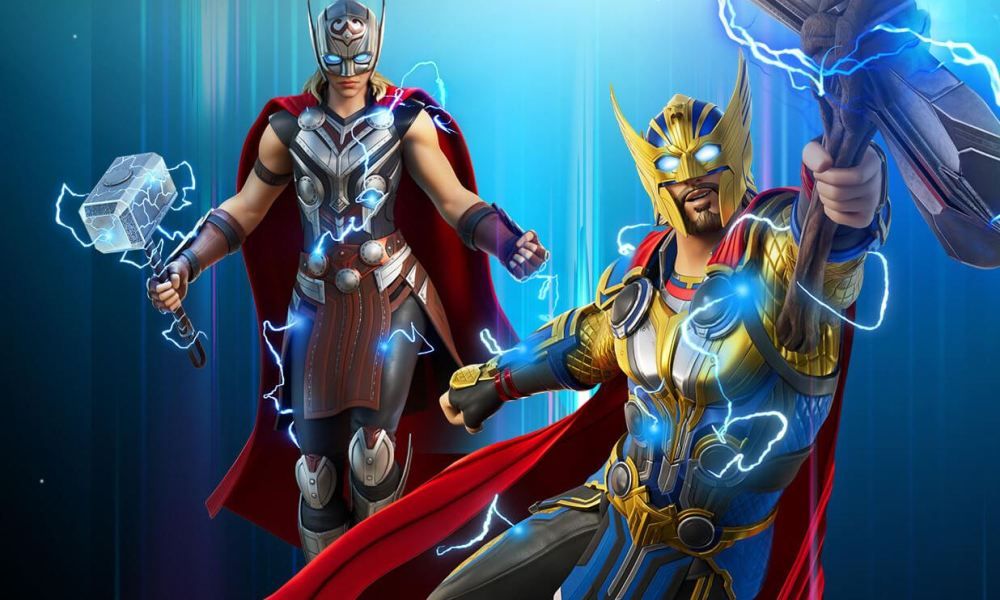 Fortnite has officially added some new skins for players, and new Thor skins are coming to Fortnite, including Thor Odinson and Thor the Mighty. We will tell you about skins like Thor Love and Thunder Fortnite in this article. Each skin has its own cosmetic items, but obtaining these cosmetic items requires players to complete some challenges, or simply spend Fortnite V-BUCKS to purchase new cosmetic items.
Fortnite: New Thor Skin Release Date
Players will be able to purchase the Thor Love and Thunder skins in the Fortnite Item Store starting July 7th at approximately 8pm ET. While you can buy these new skins from the item store, you can only buy bundles, not individual items.
Cosmetics In The Gods Of Thunder Pack
Thor Odinson:
Thor's Cape Back Bling.
Stormbreaker Pickaxe.
Stormbreaker's Flight Glider.
Mighty Thor:
Mighty Thor's Cape Back Bling.
Reformed Mjolnir Pickaxe.
Mjolnir's Flight Glider.
All skins deemed valuable can be worn by both weapons as harvesting tools and gliders. Additionally, the reformed Mjolnir has a unique built-in emote. Bring The Hammer Down. Both skins also have unique styles. Full charge. It's a reactive effect that charges your Thor skin when removed, and the pickaxe also charges after hitting a weak spot.
How to get the Thor: Love and Thunder skins
The surprising way to get the new Thor skin in Fortnite is to buy it. You can only buy one bundle, not individual items. Bundles often save some V-Bucks, but usually follow individual purchase options. Captain America was released as a personal skin, but this makeup isn't new.
Through the in-game item store, we will find packages available, purchase this package requires V-Bucks, which cost 2500V-Bucks, which is standard for premium packages, which include Thor Love and Thunder Fortnite skins.
Notably, the pack includes a mask based on these two skins, Back Blings, Pickaxes, Gliders, an emote, and a loading screen. Additionally, costumes and pickaxes have reactive fully charged styles. Clothing becomes electrified whenever the player is knocked out, and pickaxes electrify when hitting a weak spot. More specifically, what's included in the Thor Gods of Thunder bundle is as follows:
Thor Odinson Outfit
Thor's Mighty Garb
Mighty Thor's Cape Back Bling
Thor's Cape Back Attachment
Reformed Mjölnir Pickaxe
Stormbreaker Peak
bring down the hammer
Stormbreaker's Flight Glider
Mjölnir Flight Glider
Gods of Thunder Loading Screen
With the frequent crossovers in Fortnite Chapter 3, we now have a crossover from the recent Thor movies. If you want to get your hands on the new Thor item, you'll want to buy the bundle as soon as possible, as the cosmetic is only available for a limited time. If you need more cheap Fortnite V Bucks Gift Cards to experience the game better, welcome to subscribe to OKgameblog.com.